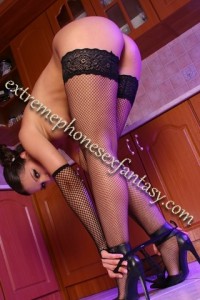 Arianna here! Now I love strap on phone sex calls as much as the next phone girl but being an extreme girl I think its time to take it to the dirty level. I know your wondering what exactly I could be talking about. Well you can thank my last caller really for he was pushing to make his time with me nastier and it had to involve ass fucking. His ass not mine. Not that I am apposed to it.
So letting my wander for a guy who is all NASTY! I ended up getting my sly grin that really can mean a whole lot of fun or well in this case a whole lot of trouble. As I had him laying on his back with my 9 inch cock shoved up his ass. The thought hit me when he was licking his lips.
Boom!
I took that fabulous cock of mine out of his ass and climbed up on the straddling over his face and told him if he wants to be a good dirty boy he will suck his own ass juices off my rubber cock. Yes I did. You should of seen the look in his eyes. I swear he had that look of "she didnt just say that right?"
Oh yes I did. Lick your ass juices off my strap on.
I mean why not if you say your are into nasty filthy phone sex and want something extreme then really to me a strap on phone sex call isnt going to be it. You sucking my cock after its been in your ass now that will kick up the nasty factor in my eyes. And really it would be a fucking damn shame for you to back down now when it comes to a bit of fucking shit smeared on the end of a girls strap on right.
So go ahead and show me how extreme you wanted to get. LICK!
Oh he did more than just licked. He fucking inhaled my cock.
I knew he would for his raging cock poking me in the ass gave it away. I did love his hesitation though.
Think your up for a filthy strap on phone sex call?
I know I am after that one. Like to see how many more guys I can get to eat their own shit off my plastic dick.
Arianna

Extreme Girls Twitter