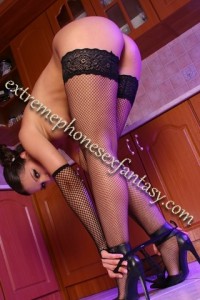 As much as it pains me to say this, your body worship skills leave something to be desired. Oh, yes, I've done my best to be patient with you and to guide you, but you don't seem to be learning very quickly. Sure, you do a passably decent job with my feet and legs, but your ass devotional skills are nowhere near passably decent (which isn't much of a compliment in and of itself, either). So in light of that, it's time to send you to remedial ass worship school.
The first thing you need to know is that point of ass worship is to worship the whole ass. Otherwise, it wouldn't be called ass worship, would it? And since it's not called "ass*hole* worship," then you're not going to dive straight in and go for the hole and nothing else. Got it?
So you're going to begin at my hips. Kiss them, nuzzle them, tell me how beautiful they are. Then, slowly work your way in. First one ass cheek, then the other. Give each one the equal attention that they deserve. I will instruct you in how to do it correctly if you make a mistake.
Then and only then will I teach you how to rim and lick my perfectly pink starfish …and only if your previous service pleases me enough to allow you that special privilege.
If you're ready to begin your remedial ass admiration classes, all you need to do is call me. The sooner you start learning good habits to replace your bad ones, the happier everyone involved will be.
Just ask for Arianna when you call the number below

Extreme Girls Twitter